mischels-truth_tarot-coaching_group-image-01
mischels-truth_tarot-coaching_group-image-02
My Readings Are a Unique Blend of 3 Parts
I refer to it as my "special soup".
Hand Analysis
Hand analysis is based on your brain energy and shows the direction the energy moves. This lets me know your thinking process, and how much time you spend thinking. It also tells me about your emotional needs, and how you go about getting your needs met. It is a road map of your behavioral patterns and life views. This information can help you shift your perspective about yourself, and life. I can show you how to make better choices, so you get what you want faster! It does not tell me when you are going to die, or if, and when you will have children.
TAROT CARDS
My Tarot readings are always about "now". It should direct your focus, and show you what's available,  what results are "doable", and which actions serve you best. I always tell people "I'm not a fortune teller, but I will tell you how to get your fortune". I believe that we have "free will".  Therefore, your future has many possibles. Your choices and your point of view determine your results. My intention is to give you clarity and courage. That you see an opening for action somewhere that allows you to access another level of results.
INTUITION
UNIVERSAL WISDOM
My intuition is what guides me through your perspective of life, how you see yourself, and what you "think" is possible. I listen straight through to your higher self.  It's my job to challenge these old beliefs and habits that no longer serve you. To show you a way to transform habits, and passions into a skill. When you can accept and allow all that has happened, and all that you are, your actions will start to align with your purpose. See what's possible when you start believing in yourself.
There are many different reasons to seek out intuitive advice. Most people fall into one of the following categories:
Needing a fresh perspective,
The courage to take new actions,
Clarity of circumstances,
Self-awareness & growth,
How to create & maintain healthy relationships,
Feeling stuck.
I believe that everyone has a purpose. Large or small, it's there, and it's yours. If you are here, it's for a reason. Yes, it IS about you. You need to acknowledge what truly motivates you. It's much easier to navigate your life, when you understand yourself, and your needs.
I can teach you a healthier way to use the skills that life has taught you. To rethink your weaknesses, and find your strength. Stop feeling the need to prove your value. Learn to be powerful by aligning your actions with your commitments.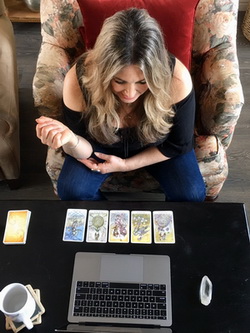 In Person
Private
$175 per hour
Shared time
30 / 30 mins $90 each
* + possible travel fee
Wednesday & Friday Nights
@ PETIT ERMITAGE – WEST HOLLYWOOD
$30 per 10 mins
* This is a private hotel. I have a limited guest list. Appointment required.
For questions & scheduling an appointment